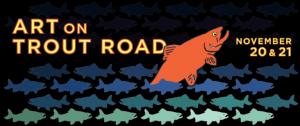 ART ON TROUT ROAD

20TH ANNIVERSARY WEEKEND OF ART


Dates: Saturday November 20th through Sunday, November 21st 10am to 5pm
Location: 68408 Trout Road, Montrose, Colorado

Enjoy a leisurely drive in the country to an intimate show of art and pottery where you can enjoy the work of three prominent artists. Bill Wilson once again shares his charming home and ceramic studio (located 4 miles south of Montrose) to host a weekend of art to include his striking ceramics, vibrant watercolors of Kurt Isgreen and regional landscape paintings by Gina Grundemann. Refreshments will be served along with good conversation and a mix of gift items including art, ceramics, prints and cards.


Bill Wilson is an accomplished ceramicist in both functional and decorative stoneware. Bill is excited to show his new striking line of black glazed pottery with brilliant colored glazes on top. He is still showing the copper and sandstone glazed works ranging from...